DECEMBER 2022
Home Pop-Up Art Gallery!
Here is a video of my recent pop-up Gallery from in my home.
Feel free to view, like, share, comment and subscribe! You will see many of the items I have available for purchase as gifts or as items for yourself! This includes t-shirts, stickers, prints (framed and unframed), and a poster. The prints are giclee (ink which is very high quality that won't fade over time). The glass is anti-glare in some cases and UV protected. I explain my mission and purpose and more about The Toronto Wildlife Centre as well. I discuss themes/messages of the images, encounters I've had with the wildlife and more. Hope you'll enjoy! Please leave me a comment if you watch as all your feedback is valued. Thank you in advance! Merry Christmas to you and yours <3
HAPPY HOLIDAYS!!
Hello Friends and Animal Helpers!
Announcing my Christmas Mission in Collaboration with YOU and the PERFECT GIFT IDEAS with my latest premier, unique 'divine nature', "WINTRY CHRISTMAS" photography-art collection for your loved ones and yourself! 🦊✨️❄️
**Watermarks will not appear on purchased goods**
I know so many of you have a deep love for animals and nature. With this in mind, I strive to collaborate with you through my photography and art in a greater mission to be a voice for animals and the natural world they reside in. I have interacted with all of the animals in these photos, which were all magical moments. I capture my personal encounters of the essence, character, emotion, intelligence and souls of the animals I photograph which I share in order to reveal their true Divinity to you. In doing so, many of you have told me that I have changed the way you think and feel about animals and nature, in a positive way, through the emotiveness and spirituality in my art and photography. I am humbled and grateful as this accomplishment has been one of the greatest passions and missions I have aspired to in my life. I realize you wish to help influence change. Now you can with your contribution, as proceeds from sales of each Ann Aria Art exclusive, premium Fine Art limited edition prints or other products such as clothing, calendars, gift card sets and more, (from $19.99 and up) directly help raise funds for the Toronto Wildlife Center's rescue animals in need. The TWC saves lives and you can too. They aid in protecting and conserving the natural world by providing education programs and experiences with animals to foster knowledge and confidence necessary for us all, in order to live an environmentally responsible way. My hope, and honor, is that the experience of my art will move you in such a way to find a special place in your home as an everlasting gift and continual reflection of your love and celebration of the beauty and significance of the natural world.
Without your support we would not be able to reach the world. Thank you.
~Ann Aria Burstyn
#wildliferescue #helpanimals #animalrescue #christmasportraits #annaria #annariaart #annariaartandphotography #AnimalWildlife #etherealarts #etherealcreature #merrychristmas #naturelover #animalloversoftiktok #helpanimals #voiceforanimals #christmasartwork #conservation #thenaturalworld #meaningoflife #divinenature #divineanimals #animaltotems #spirituality #spiritanimal #spirittotems #meaningfulart #youcanhelp #animalshavefeelings #animalshavesouls #anndreamaria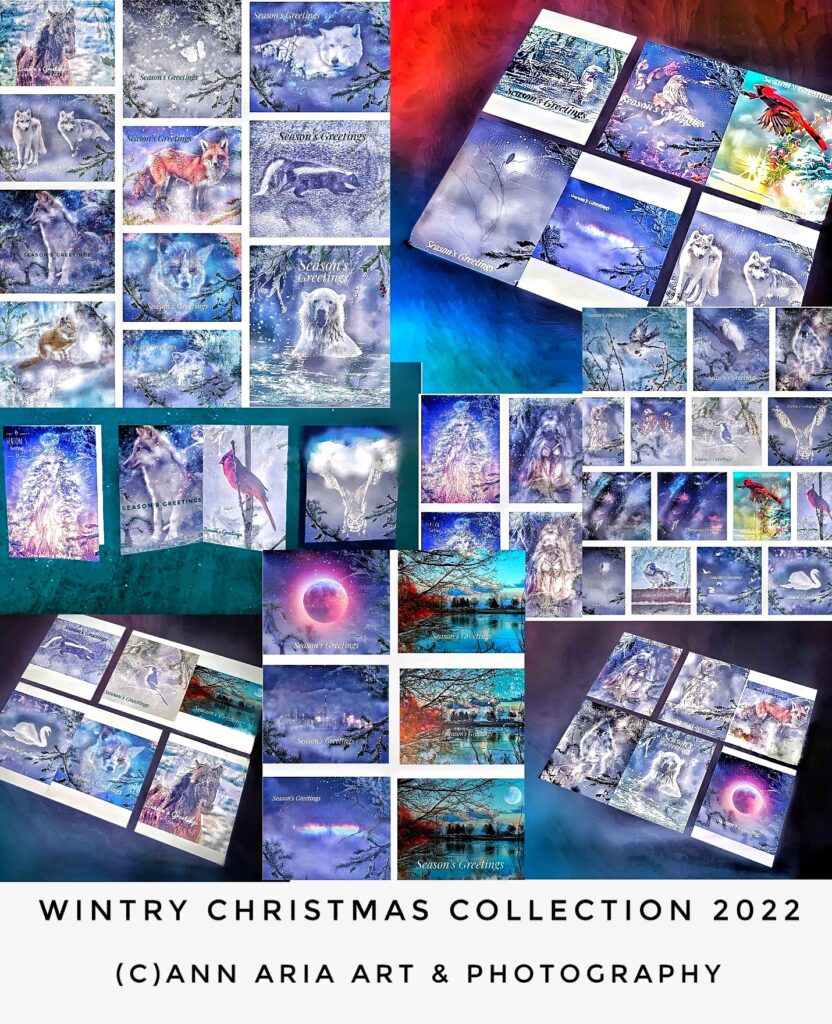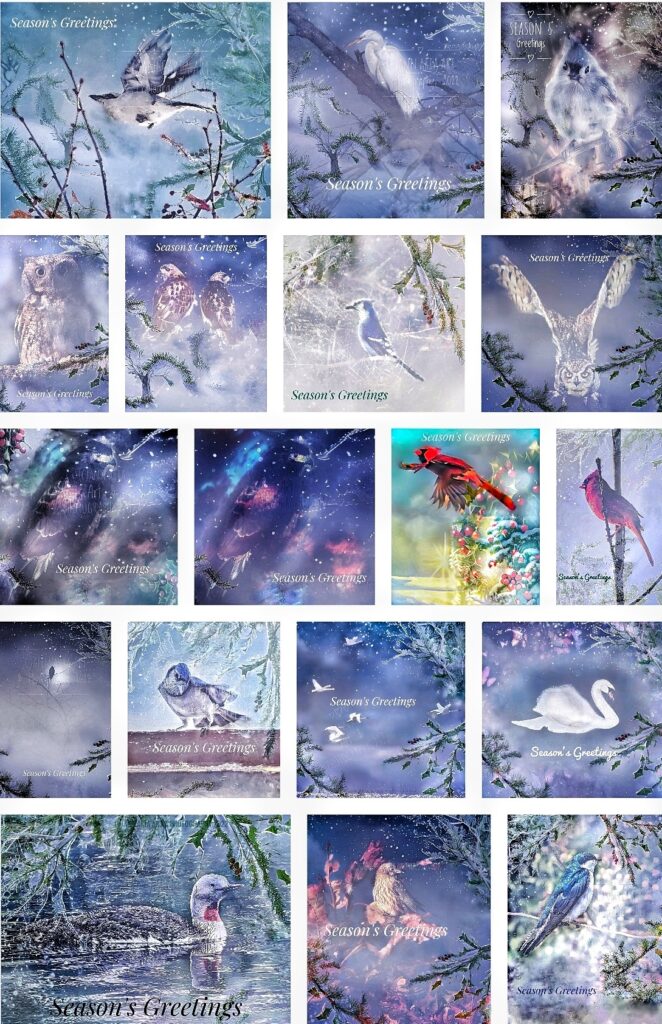 Wintry Birds Sampler
Wintry Animals Sampler

Wintry Landscape Sampler
Wintry Angels Sampler
SEPTEMBER 30th-OCTOBER 2nd, 2022
EXCITING NEWS!!

Hello Friends and Animal Lovers!

As stated previously, I am currently working with the wonderful establishment, the Toronto Wildlife Centre, for which I am most grateful. Most of you know of my great love for the outdoors, especially the Wildlife. I have always felt a deep connection with and sense of protectiveness of the beautiful animals I have met during my photographic journeys/walks/hikes. That being said, I am very pleased to announce that this weekend I will be attending the Fall National Home Show at the Enercare Centre (Exhibition Place) in Toronto, lending some of my Art Pieces to the booth run by Michael Pape, in alliance with Jungle Cat World and the Endangered Species Fund of Canada. In honoring your love for Wildlife, it would be a wonderful opportunity to attend the event to show your support of the animals and the incredible people who save their lives on a daily basis. You will see some of my Art available for purchase but also the Art of Michael Pape. He is a Toronto based artist who is renowned for his stunning paintings which are created by the inspiration behind interacting with the endangered animals he has come to know and love. Animals such as Tigers, Lions, Wolves, Polar Bears and Bald Eagles to name a few. He captures their vulnerability and divinity in his emotive, moving works, which is plain to see.

Proceeds will go towards helping the wildlife at the Toronto Wildlife Centre and the Endangered Species Fund Of Canada!

For more information, feel free to message me privately or comment on this post.

Hope to see you there and thank you!


"Innocence" image of a White Lion Cub, (c)Ann Aria Art & Photography, 2022, taken at Jungle Cat World. To show your support and to see this gorgeous animal and his family in person, as well as the other majestic animals there, visit Jungle Cat World.
September, 2022
With FALL just around the corner, there are some fresh off the presses FALL CANVAS PRINTS available for purchase. These designs are also on other items such as mouse pads, cell phone cases, mugs, clothing and so much more so please feel free to take a look around in the shop at the link listed below!
https://www.redbubble.com/people/annariaart/shop…
Every time you make a purchase you are collaborating in honoring the natural world around us. You are helping in changing the way we all think and act in looking at the overall bigger picture. Together we can alter the world if you only believe! I believe in you and in the wild animals that need our help.
All images on this official website and at the Redbubble Shop link are available for purchase on various products in order to help raise funds for the Toronto Wildlife Centre. Thank you again! The animals thank you as well. Wishing you all the very best always!
~Ann Aria
"The Spirit of a Red Tailed Hawk" Image (c)Ann Aria Art & Photography, 2022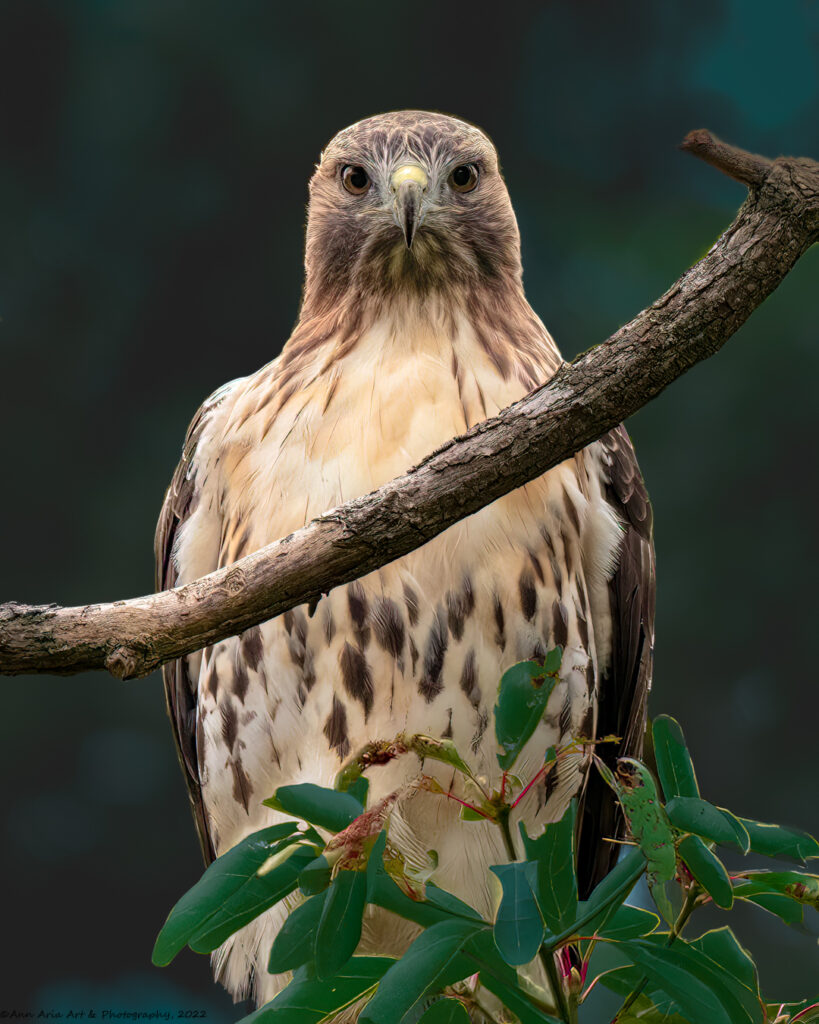 © Copyright 2022 The Art of Ann Aria Burstyn Inc. All rights reserved.
The Art of Ann Aria Burstyn Inc. Mississauga, Ontario, Canada Email: TheArtOfAnnAria@yahoo.com
This site represents the original artwork, photography, music and writings of Canadian Wildlife Artist, Wildlife Photographer, Musician and Writer Ann Aria Burstyn and is protected by Canadian and International copyright laws. Wildlife Artists, Wildlife Photographers, Writers and Musicians within Canada legally own and reserve all rights to their intellectual property, which is registered with the Canadian Copyright Office and is protected by Canadian and International Copyright Laws. This means it is illegal to print, electronically copy any content from this website, social media and or any printed materials without prior written permission from The Art of Ann Aria Burstyn Inc. Failure to get permission is in violation of Canadian and International copyright laws.